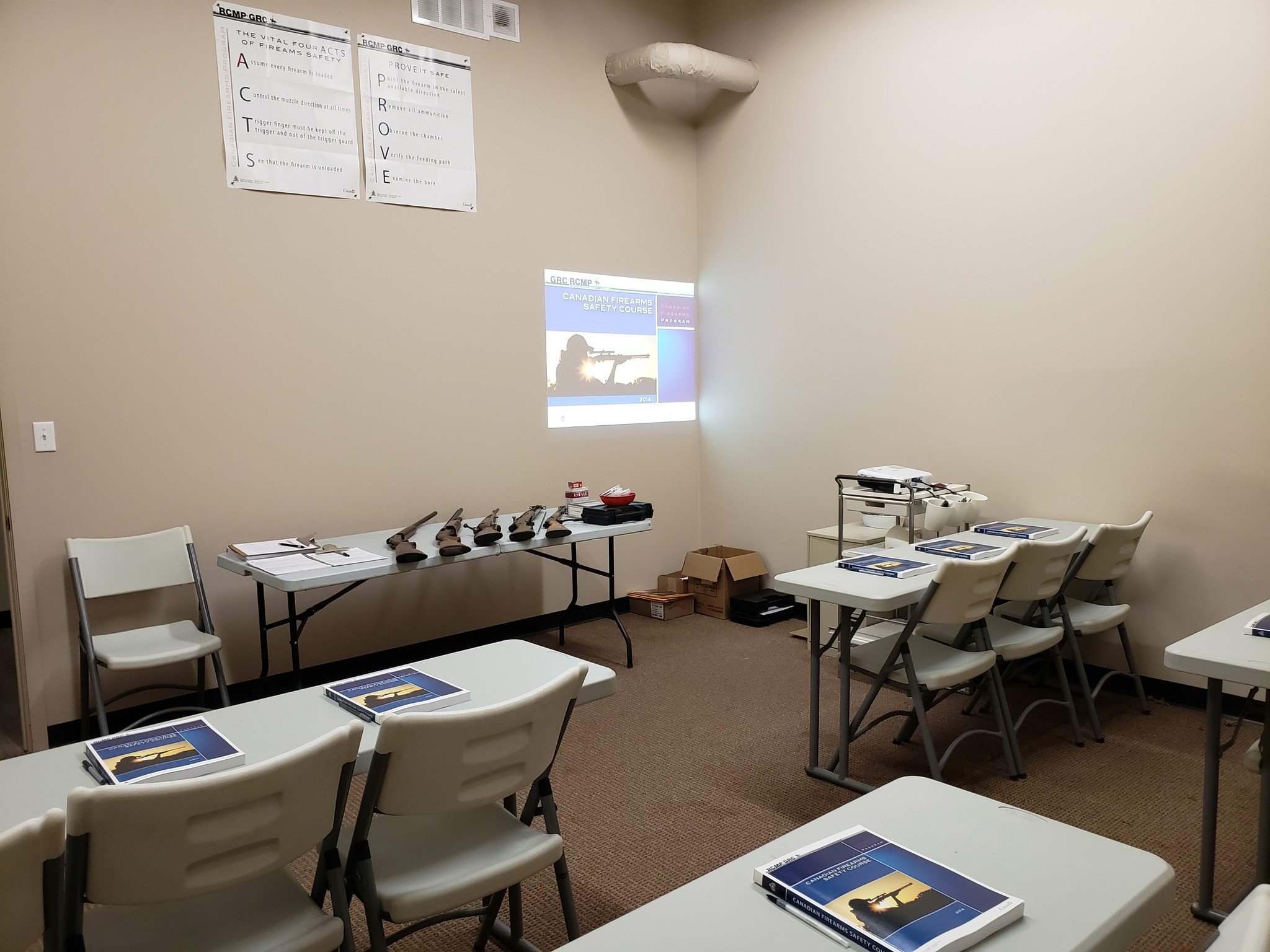 Dominion Outdoors is pleased to host a classroom in our store for the Canadian Firearms Safety Course (Non-Restricted and Restricted) through CFO designated instructors. This course is required in Canada to apply for your PAL (firearm license). The course fee is $125 and is limited to 12 students per course. Our experienced firearms safety instructors help to make the course easy to understand and fun.
Once your course is completed come see us to get your photo taken and printed for your license application. We are also happy to help you with your license application and renewal process.
You can easily sign up for our next available course online here. Or if you prefer feel free to stop by the store, email us, or phone us at (204) 325-4110.
---

Covid-19 Notice: We are teaching again! Starting July 6th we will be booking courses. To view our available courses please click this link here. Due to a backlog of cancelled courses and a long waiting list, it may take some time for courses to open up. Please give us a call or stop by to get your name put on the waiting list if you are interested.
All students attending our courses must not have travelled recently out of the Province, have cold or flu symptoms or have been in contact with someone with covid. Each student will have to fill out the Government of Canada Self-Assessment Form which we will have available on the day of the course.
Frequently Asked Questions
Q: When is the course?
A: We hold our courses on Saturday mornings at 8am, please arrive 10 minutes early. Non-Restricted courses are 8 hours and Restricted courses are 6 hours in length as required by the RCMP. Total course time does not include testing time, expect an additional 1-2 hours for testing time. You can see our upcoming course dates and sign up online here.
Q: Do I need to study before the course?
A: There is no need to study beforehand as the course is very thorough. However if you do want to study and look through the student handbook ahead of time feel free to view it online here.
Q: At what age can I take the course?
A: Ages 12 and up can take the non-restricted course. Minors receive a "Minor's Possession License" which allows them to do everything a PAL holder can do except for purchase firearms. Ages 18 and up can take the restricted course.
Q: What do I need to bring?
A:  Government issued photo ID, passport, or a birth certificate is all that is needed, we provide the rest.
Q: Do we stop for lunch?
A: We teach through the lunch period to keep the course time shorter so please plan accordingly. You can purchase the pizza lunch when you sign up for your course, which we cater for our students or you bring your own lunch.
Q: Do I need a Hunter Safety to take the course?
A: No, the Hunter Safety is not related to the Canadian Firearm Safety Course in any way. If you're interested in the Hunter Safety course, more information can be found here.
Q: What if I'm sick or cannot make it to the course?
A: If you are sick we ask that you notify us and stay home for the safety of yourself and our other students. If you cannot attend the course for any reason please let us know so we can fill your spot. Since the course has limited space and fills very quickly we are not able to offer refunds if you cannot attend, we will however try to reschedule you for a future date.
Q: What is the PAL application process like?
A: To apply for your Possession Acquisition License (PAL) you need to successfully pass the Canadian Firearms Safety Course. Upon completion of the course you will receive a course report proving you passed the course along with the necessary paperwork to apply for your license which you will send in to the RCMP CFP along with a processing fee. You will also need a photo to send with your application which we can take and print for you right in the store. We are also happy to help with your application process and can answer any questions you may have.